Consumers frequently reference reviews when they are about to make a purchase decision – what Google calls the
Zero Moment of Truth
(ZMOT). Good reviews should, in theory, increase sales, boost your search engine results and add searchable keywords to your website. We say "in theory" because unless reviews are managed properly, you may fail to benefit from them. Even worse, too many bad reviews can exact a dreadful cost.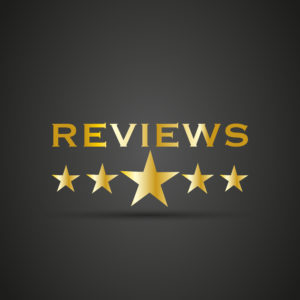 Some reviews such as those on Yelp and Google are out of your control, but you do have some scope to respond to them. Indeed, constructive critical reviews should be viewed as an opportunity to improve your product or services.  In these cases, the critic should be thanked and informed that you are working to improve in the area they commented on.
If a review is simply gratuitously nasty, it may be better to ignore, rather than risk a negative on-going battle, which you're sure to lose.  In Internet parlance, "Don't feed the troll."  If the review is threatening or contains inappropriate language, you may be able to get it deleted.
For your own website, it's easy to make the case for adding reviews. When you know what customers are saying
about your offerings, you gain the ability to engage with them, build relationships, learn about your strong points and work to remedy your weak ones. Good reviews encourage potential customers to buy your offering, as well as distinguishing your offerings from those of your competitors. Here are some tips for unlocking the marketing potential of reviews:
Harvesting: Social media resources such as Facebook, LinkedIn, Twitter, Yelp, Amazon, Google Reviews and many others can be harvested for references to your company and offerings. A company like Leading Edge Digital can continuously comb for and harvest relevant reviews from dozens of Internet sites, giving you the broadest picture of what people are saying about your offerings.
Curation: Depending on their volume, curating reviews, (that is, deciding which ones to publish on your site) can be a simple task or could be a huge drain on your time and resources. The following characteristics should factor into your decision-making process:

Mix: For brave brand managers, it may be productive to incorporate some (mildly) negative comments, along with your rebuttals, to maintain your integrity.
Editing: A review that is longer than two or three sentences will turn off many potential readers, so short and snappy is best. You can do this by using ellipses and emphasis. For example: "I found the product exceeded my expectations…well worth the price…will recommend to others."
Scaling: Reviews carry the most impact if they are scaled to a rating system, such as one to five stars. Reviews are more valuable if they come with four or five stars, so these should be your favored candidates for publishing.
Optimizing: There are a number of technical steps necessary to ensure search engines find and use your reviews. One of the most effective is Google Reviews Ad Extensions.
Placing: It's usually better to place reviews directly on your product or service page rather than creating a separate page for testimonials. Pages devoted to reviews are seldom visited. Product pages dotted with reviews have higher visibility and can boost search results by adding new keywords.  We recently built a website which had reviews on both the individual web pages and also had a separate review page:  http://www.boudicashampoo.com/reviews/

Reputation Management: LED provides reputation management services to help counteract the effects of negative reviews and comments. An RM service should alert you to all new reviews, especially the negative ones. This enables you to respond positively, make amends or explain your position. Admitting to and fixing mistakes is a powerful tool for positively influencing prospects at the ZMOT. The best way to get better reviews is to be better. Listen to reviews and learn.
Leading Edge Digital can manage your online marketing efforts by helping you maximize value from the reviews you receive and working to maintain your company's reputation.
Related articles